Dining
To fill your mind and tummy with mind blowing flavours, we have the perfect restaurant providing you with different cuisines. Food is the path to any person's heart and with our wonderful team of cooks headed by our chief chef, we are all set to conquer your heart.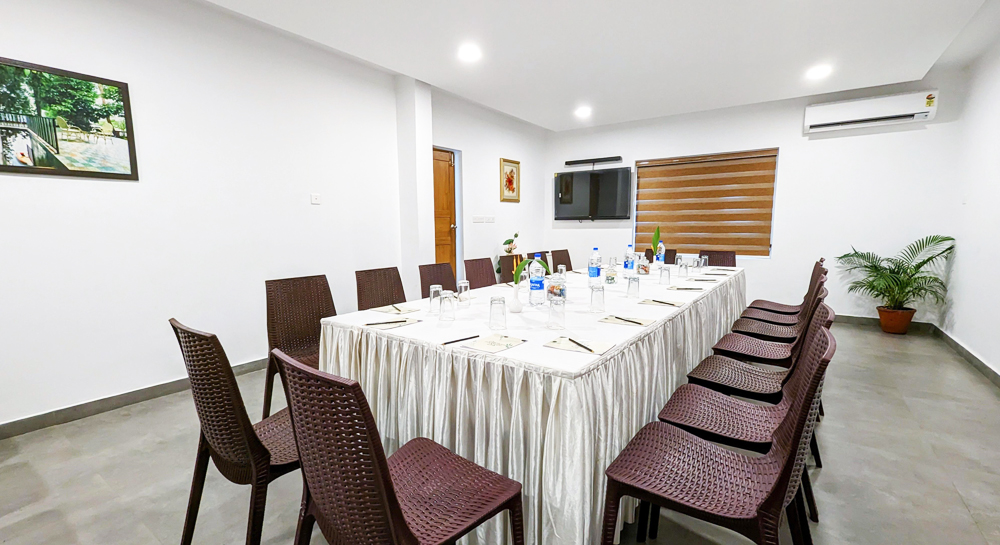 Make your business meetings and gatherings unique from that of others at Once Upon The River, with our Corporate Meeting Room that overlooks the river and endless green. Spark novel and refreshing ideas in the warm embrace of nature....Read More
Boat Safari
Leave the lush green behind, it is time to explore the serene waters of river Periyar. Cruise along local attractions and discover the beauty and charm of Periyar on a Boat Safari. We have trained staff to accompany you because your safety is our priority.
Indoor Games
How about a round of foosball? Or badminton? Are you into board games? How about a round of Carroms? We have a provision for indoor games for our guests to entertain themselves.
Swimming Pool
Dive into the cool waters in the heart of the land and escape from the tensions of the busy life that awaits you outside. In the privacy of Once Upon The river, cool yourself and relax in our swimming pool in the midst of lush green and perfect cool atmosphere.
Events
Lavishly sprawling over 3.5 acres of land, our resort is a perfect spot for hosting your important ceremonies, pre-wedding events, wedding receptions, and other special celebrations.
Party Hall
Enjoy your events and parties at Once Upon The River on rooftop hall that overlooks the river and endless green, which provides you ample privacy.
Personalised Services
At Once Upon The River, our team takes great care in attentively tending to your wishes and getting to know your holiday preferences throughout your stay. Our customer is our top priority and we shall do everything for their happiness.
Silence & Privacy
The only sound that you could possibly hear in the resort is that of Mother Nature. Bird chirps and the symphony of Periyar. Enjoy privacy, which is certainly a luxury these days in the cozy soothing atmosphere of our resort.
Fishing
Enjoy your leisure time at Once Upon the River by fishing in the river Periyar. Catch a fish and we'll cook it for you according to your choice.
Children's Play Area
Enjoy the serene ambience of Once Upon the River while your kids have an amazing time at our children's play area. Let them play their hearts out and slide their way to happiness.
Family Dayout
Enjoy the environmentally friendly setting at Once Upon the River with your grandparents, uncles, aunts, and cousins. Plan a memorable reunion that will remain a memory for a lifetime.